3rd Insurance Risk Management Academy
Zagreb, Hotel DoubleTree by Hilton
05. – 07. 07. 2017.
We would like to thank all attendees for participating in the 3-day intensive specialist education program "3rd Annual Insurance Risk Management Academy".
IRMA III had focused on the most relevant issues in the risk management field in insurance and reinsurance companies and had provided participants with full range of key knowledge and skills that they will be able to use to improve their performance as pragmatic risk managers.
With your arrival you have confirmed importance and need to maintain this kind of regional event, where participants have opportunity to exchange their insights and experiences from different markets within the SEE Region and thus make their respective institutions even more successful, while at the same time producing a specific extra value for themselves as well.
IRMA III participants:
Insurance Supervision Agency of Montenegro
Insurance Supervision Agency Macedonia
Erste insurance company VIG Croatia
Generali insurance company Croatia
Izvor insurance company Croatia
Kapitalska družba Slovenia
Lovćen – life insurance company Montenegro
Merkur insurance company Croatia
Milenijum insurance company Belgrade
Modra insurance company Slovenia
msg global solutions South East Europe Serbia
SID (First Credit Insurance company Slovenia)
Vzajemna health insurance company Slovenia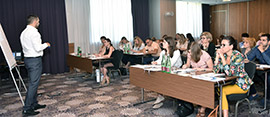 "I would like to praise entire team – an enviable level of professionalism, quality of content of the education and its performance, above all the lecturer and way of transferring knowledge. It was indeed a very useful and inspirational experience."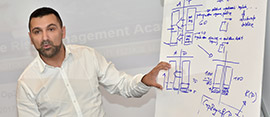 "Education was instructive and detailed. Content is customized for 3 days and complete."
"All praise for organization of the Academy. Constructive, dynamic, interesting education enriched with lifelike examples. I'll definitely recommend it to other colleagues."