3rd Annual Risk Management Academy
Zagreb, Hotel Palace
14. – 18. 05. 2018.
We would like to use this opportunity to thank all the participants of the "3rd Annual Risk Management Academy" for their participation in this unique 5-day specialist education program and the confidence they have shown to Op2M team.
3rd Annual Risk Management Academy is comprehensive educational program about integrated risk management in credit institutions, and lectures are characterized by a balanced relationship between theoretical and practical aspects.
RMA III participants had an opportunity to address issues and resolve their remaining dilemmas about good implementation practices and expectations of supervisors and auditors, directly with our lecturers.
With your arrival, you have confirmed the importance of such comprehensive and balanced educational programs that are specifically designed for key employees and managers most banks count on in the upcoming years.
Each participant gained certificate of participation and we believe that attendees will successfully implement knowledge gained on RMA III.
RMA III participants:
Erste Card Club
J&T bank
MF bank AD Banja Luka
Privredna bank Zagreb
Slatinska bank
Sparkasse Bank BiH
Stopanska bank Skopje
Telenor bank
UniCredit Bank Serbia JSC
Thank you all and see you next year!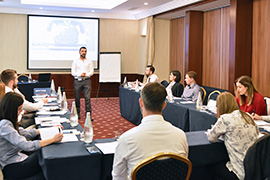 "The concept of 3rd Annual Risk Management Academy is great. The lecturers are phenomenal, especially Stjepan Anić. He is great lecturer who knows how to explain banking processes and he stimulate people to think."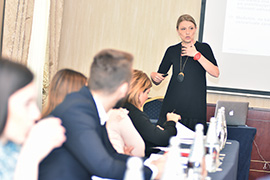 "I think that content of 3rd Annual Risk Management Academy is comprehensive and that all topics have been covered. Given the size of the educational theme, I consider it extremely well constructed in terms of covering the component of the theme."
"Great educational setting. Immediacy and positive provocation of the lecturer."