4th Annual Credit Risk Management Academy
Zagreb, Hotel DoubleTree by Hilton
15.11. – 17.11. 2017.
We would like to thank all attendees of the 3-day intensive specialist education program "4th Annual Credit Risk Management Academy" for participation and confidence they have shown us.
With your arrival and dynamic interaction you have confirmed importance and need to maintain this kind of regional event, where participants have opportunity to exchange their insights and experiences from different markets within the SEE Region and thus make their respective institutions even more successful, while at the same time producing a specific extra value for themselves as well. Each participant gained certificate of participation and we believe that they will successfully implement knowledge gained on CRMA IV.
CRMA IV participants:
Bank of China Serbia
Postal Savings Bank Belgrade
Erste & Steiermärkische Bank
Erste & Steiermärkische Bank S-Leasing
Erste Card Club
Croatian Financial Services Supervisory Agency (Hanfa)
HBOR (Croatian Bank for Reconstruction and Development)
HPB (Croatian Postal Bank Zagreb)
NLB Bank a.d. Banja Luka
NLB Bank a.d. Belgrade
NLB Bank AD Skopje
OTP Bank
Privredna bank Zagreb Croatia (Intesa Sanpaolo Group)
SID (First Credit Insurance company Slovenia)
Societe Generale Bank Serbia
Sparkasse Bank dd BiH
Stopanska banka AD – Skopje
Telenor bank
UniCredit Bank Serbia
Vojvođanska bank a.d. Novi Sad
Zagrebačka bank
ZiraatBank BH
Thank you all and see you next year!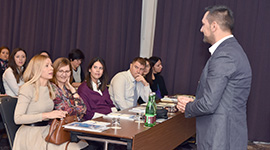 "Lecture was excellent structured, based on practical examples, interactive approach."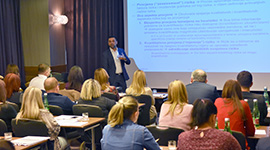 "Great introduction to the IFRS 9 and comparison with MRS 39. Lecturer presented many examples from experience that make it easier to adopt concepts."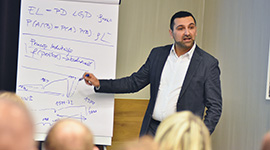 "CRMA IV has covered all the important parts of the credit risk in a understandable and fun way. This Academy is good for everyone who has a greater responsibility in the risk part."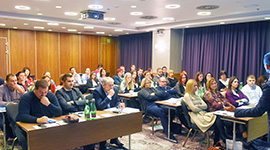 "CRMA encourages to additional thinking and interest that is not usually  in focus in everyday operational activities. Participation on the Academy is complemented by educational material."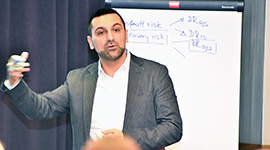 "Lecturer made excellent linkage of areas like risk, corporate and treasury. He insisted on arguments and presented through examples"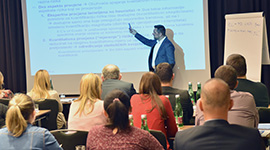 "Practical examples. Very understandable. Lecturer is approachable and ready to discuss."